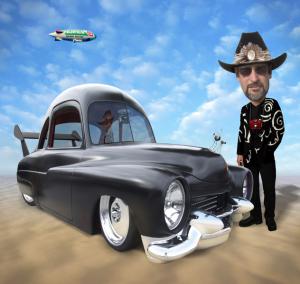 I'M BACK IN BLACK & WHITE & A LITTLE RED
Over the years friends and colleagues told me I was getting a big head from all my success in the "biz". I had noticed that my hat size kept going up with each purchase but didn't think much about it, until my motorcycle helmet would not fit. I had to finally have a measurement taken and sure enough everyone was right…I have a huge head. I thought, "Cool"! I have always loved those big-headed figurines, you know the ones, like W C Fields, Charlie Chaplin, Marcel Marceau, and Winston Churchill. Like Those. When I shake my head back and forth I look just like a bobble head. Anyway, one thing always leads to another. I had to customize my street rod, first raising the roof to accommodate my huge head. Although my eyes are twice as large as before my night vision sucks so I added the brightest and largest head lights known to man. I'm talking power, with the high beams on you can melt polyester clothing, I shit you not. This being my photomobile, I hung two AGFA Clack cameras from my mirror in lieu of dice. Last but not least my custom Flea Photographer hood ornament.

To make me shine as much as the car I borrowed a cool jacket from a Dave Adams shoot as well as one of Richard Petty's famous hats from one of his portraits I shot a while back. To complete my look I added my custom painted red Holga I20n with the hand woven neck strap. Damn, I look good!

Wow, this shot is really coming together. Being the coordinator, photographer, and model is like being the ringmaster of my own 3-Ring circus.

Here it is the day of the big shoot. I woke up about 2:00 and felt well rested, just raring to go. Even thought about shaving…Right. I was so glad I had booked my favorite secret location, you know , the one just down from where I shot the Grand Piano Migration of 2007 at "The Crossing". I think I have everything, a, Oh Yeah, Breakfast. You know breakfast is the most important meal of the day. Let's see, grits, turkey bacon, eggs sunny side up, toast and lots of high-test coffee. Wait…no toast, that's right, I have celiac disease. Damn, I miss bread, cookies, doughnuts, cake, pies..OK back to it. After my breakfast I leave for the location and it seemed much closer than I remember, anyway it's a beautiful day ..the sun is at my back and in my face with the wind blowing from my right and my left. Damn it! The Fuji Blimp. They knew I was going to shoot Kodak VC 400 for this project and are trying to sabotage my shoot. I changed angles several times but that blimp driving dude was good, still always in the frame. Ah, what the hell, I took a light reading, sunny, so I set the slider to the little sun position and set the custom made self-timer gizmo, and ran to my position. CLICK! Yes, you heard right, to save time and money I only did one exposure. Unfortunately for you all it took another 6 months to shoot the rest of the roll. Hell, I just processed it. Yes, this image is in my portfolio. Peace & Love to ALL, Mike McGlothlen.